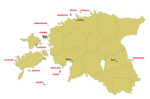 Vormsi, a small island that arose from the sea some 3000 years ago, got its name according to a legend from the Island Viking Orm, whose name in translation means snake. The island with a bit more than three thousand permanent inhabitants is a home for hundreds of flora and moss species, living and stopping place for 221 birds species, for rare natter jacks and big ear bats. Over the island there passes two important migration trails. Historically the island has been inhabited mainly by the Swedes, of which the Swedish language location names give evidence. Cosy coastal life and the idyll of the fishermen village can be found on the island also today. The Church of Vormsi was built in the 14th century and is consecrated to St Olaf. The biggest feast of the inhabitants of the Island of Vormsi is St Olaf's Day on 29th June, which is celebrated with a traditional church concert and evening village party. For those looking into themselves and eternity the graveyard with stone crosses is a suitable place for a silent thinking.
You will find a cosy swimming beach close by the Village of Rumpo, the western and northern shore of the island are mainly of stone pebble. Three lakes – Prästviigi, Diby and Kärrsläti – have been formed from the former sea bays. Over half of the island is covered with forest. In the western part of the island there are mainly alvars and junipers, the eastern side is lower and boggy.
You can get acquainted with the holidaymaking possibilities on the website of the island www.vormsi.ee
You can get to the Island of Vormsi from the Harbour of Rohuküla with a ferry ship Reet (time table on www.veeteed.com) and the trip to the island lasts 45 minutes.