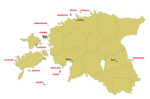 The most western inhabited island of Estonia is special in many ways. For example, especially here there is the greatest amount of sunny days in a year. Winter comes here late and is mostly with molten weather. In 1910, the Vaika Bird Reserve was established on Vilsandi that has now grown and broadened to the Nature Park of Vilsandi. The Nature Park comprises about 100 small islands and islets. The age of the island is considered a bit more than 2000 years. In 1703, the Dutch seafarer Johann Doll inhabited the island, from whom the Tolli Farm has derived its name. In the end of the 18th century, a border guard cordon was established on the island and more people came to live on the island. In good times there were over two hundred inhabitants on the island – people were engaged in fishing, seafaring and seal hunting, and a bit also in agriculture. Today there is only one permanent inhabitant – the hostess of the Tolli Farm – on the island, besides the island watcher Jaan Tätte. But those people, spending their summers here, are some dozens more. Among the inhabitants of the island there is also the viable colony of grey seals.
The sightseeing catching an eye from the distance the most is the Vilsandi Lighthouse, the building year of which is 1809. There is an observation tower between the captain house of Tolli and the lighthouse, from the top of which it is possible to see the whole islands and neighbouring islets.
On the western coast of Vilsandi there are so-called bird islands: Bottom Vaika, Middle Vaika and Upper Vaika, Mustpank, Kullipank and Karirahu. During the low water it is possible to reach the Islet of Vesiloo, situated north of Vilsandi, by foot through Riimisääre.
You can reach Vilsandi by the post boat (time schedule www.kihelkonna.ee) from the Harbour of Papisaare, in Saaremaa. If the water level is low, then you can reach Vilsandi also by foot, with a truck or a jeep. It is certainly advisable to pre-book the tickets for the trip to the island.