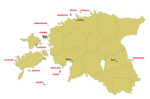 Who would not know Ruhnu – it is an island in the Liivi Bay, which, despite of its location, is still ours, not Latvian's. For consolation we sent them the bear, who visited the island, who became the people's favourite at once. More than bears (who has left the island), the beef cattle of Estonian countryside breed, sheep, horses and a little over 60 people are living on the island, who take care of the island, the animals and tourists. There are few people, but a lot of work and things to do: there is a weather forecast station, airport, diesel power station, harbour, post office, museum, forest administration, family doctor, school, church, library with an internet point, shop, parish government, two stores open all year round and a rent sauna on the island. The wooden church with a long history is the best place for a silent thinking.
An ancient Swedish community, who once lived on the island and preserved the old traditions, left the island in 1944 nearly in the whole composition to go to Sweden. Only two families stayed. New inhabitants came mainly from Kihnu and Saaremaa, but some came even from Tallinn. First signs of inhabitancy on the island derive already from 7200 years behind – the Island of Ruhnu was one of the first "rising from the sea" in the neighbourhood. The western coast of Ruhnu is more shallow and gentle from the eastern coast, which is mainly covered with forest and used as an agricultural land. In addition to bigger domestic animals, bees are kept on the Island of Ruhnu.
In summertime, you can reach the island by the ship departing from the Munalaiu or Roomassaare harbour (time schedules www.saarteliinid.ee). In wintertime, you can reach Ruhnu by plane as from Kuressaare as well as from Pärnu (www.lendame.ee).