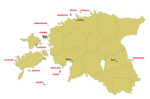 Prangli, as Naissaar, belongs to the Viimsi Parish and the trip over the sea lasts for about an hour. Different from Aegna and Naissaar here are over one hundred inhabitants on the island, a school and a village house. It is not known exactly who inhabited the Island of Prangli and who have the honour to be the first inhabitants of the island. The first notes about the inhabitants of Prangli derive from the 14th century. The legend tells that two men, who overcome the shipwreck, found themselves on the island - Kajaga Joost and Räsi Mikk, who promised to build a chapel for the sake of their rescue and – also built it. From the old chapel only the name of the place has been preserved today – Vanakabeli Cape on the eastern coast of the island. The wooden church of St. Laurence that was consecrated in 1848 was brought piece by piece from Finland, Sipoo, and was put together on the spot. During the manor times Prangli belonged first to the Maardu and then later to the Haljava Manor, the taxes were paid in fish – the poor agricultural land was not suitable for crop growing, but there was still some cattle on the island.
Even today the main income of the inhabitants of Prangli, besides tourism, is fishing.
Soon the Farmhouse Museum of the Island of Prangli will be opened.
Information about the island can be found on the websites www.prangli.ee and www.prangli.com.
You can get to Prangli with a post boat VESTA that can take on 47 people at a time (timetable www.veeteed.com)