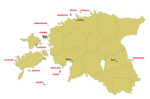 Osmussaar Island is one of the most exciting islets in Estonia in terms of landscapes, geology, flora, birds and history. The island occupies the area of 5 km². The topography is characterized primarily by the heaps of pebbles that keep changing subsequent to any heavy storm and juniper fields and small pools in between them. In the northern shore of the island the coastal cliff rises 8 metres above the sea. Interesting black and rugged boulders of gneiss-breccia have been found here, originating from the Neugrund structure – a huge submarine crater of the meteorite (located at the entrance of the Gulf of Finland).
The vegetation of alvars can be described as extremely feeble but still colourful. In spring and summer large number of arctic waterfowl, especially long-tailed ducks, scoters and divers, pass the island.
Prior to the Second World War 120 ethnic Swedes inhabited the island. At present it is deserted. The journey to the island departs by boat from the Dirhami Harbour. Trips can be organised only with moderate waves. Sometimes the journey can last longer than expected due to changing weather conditions.