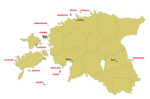 Under the name of Naissaare, or actually under the name of Terra Feminarum, was the island described by the Bremen monk Adam. If and how many bloodthirsty amazons were living on the island, as some legends tell, is not known.
The only inhabitant of the island Peedo takes care of the feeding and accommodation of the visitors of the island. The central and eastern part of the island and the former grown in bay pouches have been swamped. The island is mostly covered with forest – mainly with pine forests, in the northern and southern peak also fir forests. There is a highland with two peaks in the central part of the island - Stora Bärgerna (27,7 m), in the eastern part there is the Kunila Mount. Thanks to the pure air and water also mosses and lichens feel comfortable on the island, the richness in species is one of the biggest in Estonia. On the eastern coast of the island there grows a peculiar flora community – the Garden of the Danish King. In order to protect the natural and cultural heritage of Naissaare, the Nature Park of Naissaare was established.
Naissaar has been through the history been used for military purposes. In 1913, the whole inhabitancy of the island, mainly coastal Swedes, was evacuated, who came back to their homes after the war. After the 2nd World War, until 1993, Naissaar was in the possession of the Soviet army. As a heritage from those times there is a narrow-gauge railway preserved on the island, where it is possible to make fun rides. Excitement is added by the Czar-time cannon battery and the Soviet-time mine factory.
More general information of Naissaare and of the activities performed there could be found on the website www.naissaare.ee
You can reach Naissaar by the 147-seat passenger boat MONICA.
The boat departs from Pirita (timetable www.naissaarele.ee).