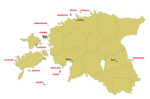 Only 1,9 km2 in size islet, situated between the Island of Kihnu and the Peninsula of the Tõstamaa, was inhabited in 1930s by the inhabitants of the Island of Kihnu, as the latter became too small for them. Previously this piece of land was used by the workers of the Manor of Pootsi for haying and the fishermen of Kihnu as a sheltered stopping place. The women of the Island of Kihnu also came here to collect Galium boreale.
In 1933, the Republic of Estonia gave the right to inhabit the islet with fishermen farmhouses and Manija was divided into equal farmhouse grounds. Manilaid, listed together with Kihnu in the list of world heritage of UNESCO, is one of the smallest inhabited islets in Europe – there are about fifty inhabitants on the island. In 2005, during the January storm, Manija was totally under the water, but is now back to its former beauty. The island charms with its coastal meadows, sheep and fishermen way of life. There are no historical constructions or museums on the island. But those, who want to hear the husky croaking of the natterjack, will find here good opportunities for that. On the Cape of Papina there stands a lighthouse worth seeing – it is as small and lovely as Manija itself.
You can get to Manilaid from the Munalaiu Harbour in Pärnumaa with a ferry (time schedule www.tostamaa.ee and www.veeteed.com).