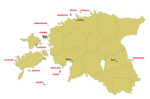 Even those, who have not been in Kihnu, know the stripe skirts of the island women, men's troi, the songs of the Kihnu Virve, Kihnu Jõnn, motor bikes with fish casks and the funny sayings of the inhabitants of the island. The island is small, but there is much to see and hear.
Kihnu (Kyne) is mentioned for the first time in 1386. But the recent excavations have shown that fishermen and seal hunters have been in camps on the island even 3000 years ago. The Kihnu Strait is a bird area of an international importance. Sangelaiud is the biggest nesting place of the colony of mute swans in Estonia, where also grey seals and ringed seals feel themselves comfortably. Therefore it is prohibited for people to stay in Sangelaiud during the period of 15 April to 15 July. Under the natural protection there are also two big boulders - Kassikivi (with the perimeter of 4,5 m) and Liiva-Aa Suur Kivi (with the perimeter of 12 m), the three old lindens of the manor site and the old oak of the Koksi Farm. There are not many wild animals on the island, the numerous hares have replaced foxes.
The lighthouse on the southern peak of Kihnu, on the Pitkänä Cape was assembled of the details made in England in 1864, historically the lighthouse watchers have mainly been Russians. The first church, built to the northern peak of the Island of Kihnu has been destroyed by today. In 1846-1847, moist of the inhabitants of the island accepted the orthodox religion in hope to receive some land from the czar. Czars disappeared, the orthodox religion remained.
You can get acquainted with more than 700 exponents and biographies of famous inhabitants of the Island of Kihnu and enjoy the artistic production of the naivist painters in the Museum of Kihnu. You should also definitely see the new village house.
A visitor will never get in trouble in Kihnu: there are tourism farms and shops, also a camping and a camping site on the island.
You can reach Kihnu by sea with a ferryboat Liisi from Pärnu (the trip will last 2 hours and 15 min) or from the Harbour of Munalaid in Pärnu (trip of 50 min). You can find the time schedules on the website www.veeteed.com.
There is also a plane flying from Pärnu to Kihnu (www.lendame.ee).