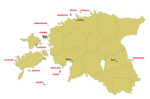 Kassari, united with Hiiumaa with dams and road, has for decades been a favourite place for writers, artists and poets. There is the summer house of Aino and Oskar Kallas, the Exposition House of Kassari of the Museum of Hiiumaa and a limestone chapel with reed roof with a unique architecture on the island. The Manor of Kassari was established in the 18th century. By today the gardener's house, built in the 19th century, host house and a park with many species with a stone fence surrounding it have been preserved.
Even today there are edible snails living in the park, which were raised in manor times to enrich the food choice. Of the former seventeen windmills only one has been preserved – the Ristete trestle windmill. There are four villages on the island: Esiküla, Taguküla, Kassari and Orjaku.
The building of the Harbour of Orjaku started in 1912 with the means of the sea forces of the Czar Russia, but before the start of the 1st World War only two stone defence moles were built. During the first Republic of Estonia the harbour was used as passenger as well as goods` harbour. Today Orjaku has become a tourism harbour that can receive sea vessels with up to 3.5 meter sea gauge. 1 km from the harbour there is a nature trail and an observation tower, within 5 km distance there is the Sääretirp.
Long and stone pebble narrow cape, Sääretirp, is one of the most favourite places for tourists. Piibunina, the most well-known swimming beach of Kassari is situated on the southern coast of the island – the coastal water here is one of the warmest in Estonia.
There are many tourism farms, dining and accommodation places on the island for different tastes.
It is easy to get to Kassari – from the mother island there is a proper road to the daughter island. You can get to Hiiumaa with a ferryboat as from the Harbour of Heltermaa on the mainland as well as from the Harbour of Triigi in Saaremaa (time schedule www.tuulelaevad.ee).