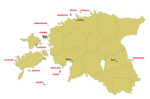 A blue-grey knoll that raises on the horizon, when looking from the Tallinn Town Hall to the sea – that is it. The island that has changed its owners many times during the history, sometimes closed and sometimes opened for common people, belongs since 1975 again to the town of Tallinn. In the 16th century the island was under the fear of the pirates – in 1577, the Swedish pirates did even that that took away not only the property of the inhabitants of the island, but the inhabitants themselves. The reign of the pirates was crashed only after some hundreds of years. The island that until 1689 belonged to the Tallinn town hall, has meanwhile belonged to the Swedish Kingdom and Czar-Russia. First military construction, the cannon battery, was erected on the island in 1728. In the beginning of the 1st World War all inhabitants of the island were exiled from the island, new military objects were built on the island as before as well as after the war. Estonia, after having regained its independence, erected a central command point on the island and fixed and improved the constructions of the czar time. The narrow-gauge railway, built for meeting the needs of the military, has been preserved by today.
In 1961, a ship line to Aegna was opened, but in the beginning only the workers of big enterprises, who had received a package for holiday resorts could get to the island. Aegna was opened for all people only in 1991.
From the sandy beached of the island a superb view opens to the silhouette of Tallinn. Two third of the island is covered with the pine-fir mixed forests, the pine forest on the coast with pines of crooked branches feels like a fairytale forest. As common for one island, there are many boulders on the island. One of which – Punakivi i.e. Sitakari was blown up by the Soviet military forces bewaring the spies behind the stones. One of the boulders is a concavity stone, which was probably used as a sacrificial stone. It is told that Katlakivi, situated in Lemmiku nina echoes back when knocking hardly. You can find 12 mysterious stone rings from fist size round stones on the island – old folks have named them the City of Jerusalem. The small neighbour of Aegna is the Island of Kräsuli. In cold wintertime, when the sea is covered with ice, the hiking trip by the ice to the Islands of Aegna and Kräsuli is just with an appropriate length not to wear you off.
Some few years ago a nature house, commander's house and a nature trail with 24 information signposts were opened in Aegna.
From June to October you can reach the Island of Aegna with a passenger ship JUKU that departs from the berth of the Town Hall (time schedule www.veeteed.com).