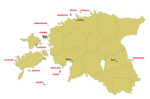 Legends tell that Abruka is the work of an Old Devil or has been born from the stork killed by Suur Tõll, who fell into the sea near Saaremaa. Was how it was, but peculiar is the island anyhow, having two small neighbouring islands as "wings" on the sides. Instead of junipers that are so characteristic to the islands of West-Estonia – the island is covered with a forest – mainly lindens, elms, aspen and oaks, having hazelnut trees as a bottom forest. Coniferous forest rich in species has been under natural protection already since 1930. The Island of Abruka belongs to the network of bird and nature areas of Natura 2000. There are many species of lichen that are rare on the manner, ramson, crawling cabbage and orchids growing in the forest.
Farmhouse people came to the island as permanent inhabitants only in the 18th century. Before that the peasants of Sõrve came to the island to take care of the horses and buildings of the manor on the island. Nowadays there are a dozen permanent inhabitants on the island and 36 farmhouses.
For camping on the island you can rent bicycles, rowing boats, order car excursions or guided camps. Additional information can be found on the website www.abruka.ee
To reach the island you have to get to the Roomassaare in Saaremaa at first, from there you can reach Abruka by a line boat (timetable on www.abrukainfo.eu in the information section).